West Branch: The Print Magazine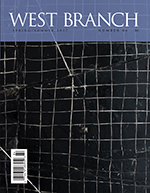 West Branch is a thrice annual magazine of poetry, fiction, essays, and reviews.
Founded in 1977 and housed at the Stadler Center for Poetry at Bucknell University, West Branch publishes a fall, winter, and spring/summer issue each year. West Branch is funded by Bucknell University and the Pennsylvania Council on the Arts. West Branch is printed and bound in the USA by McNaughton & Gunn, Inc., and distributed by Ingram Periodicals, Inc. ISSN: 0149-6441.

Subscribe online or from your mobile device.
Cover art by Volker Hüller, 2016, pigment, glue, lacquer, paper on collaged canvas, framed, 78" x 73.2"
Subscription Rates
One-Year Subscription (3 issues): $10.
Two-Year Subscription (6 issues): $16.
Institutions: $16 and $22.